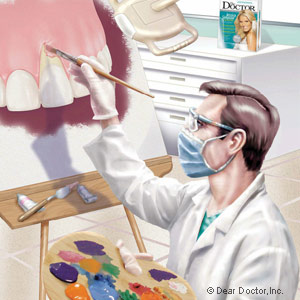 There's only one way to effectively halt the progressive damage of periodontal (gum) disease — completely remove the bacterial plaque and hardened deposits (calculus) from above and below the gum line that are causing the infection. Although we can accomplish this in most cases with hand instruments called scalers, ultra-sonic equipment or both, some cases may require periodontal surgery to access and clean deeper "pockets" of infection.
As this damaging disease progresses, the supporting bone dissolves and the gum tissues will begin to detach from a tooth, leaving an open space known as a "periodontal pocket." Besides plaque and calculus pus may also form as a result of the infection. All of this material must be removed from the pocket before healing and, hopefully, tissue reattachment can begin.
Shallow pockets near the gum line are usually accessed and cleaned with hand instruments. But deeper pockets (5 millimeters or greater in depth) may require a surgical procedure to completely clean the area also allowing for regenerative procedures to be done to regain attachment. This will reduce the depth of the periodontal pockets that will make them more accessible for future cleanings and maintenance. Flap surgery is a common type of such a procedure: a small opening (similar to the flap of a letter envelope) is surgically created in the gum tissue to expose the area of infection around the tooth root and bone.
There are also other types of periodontal surgery for repairing and stimulating regeneration of damaged gum tissues. Using grafts or other enhancements, these plastic surgical techniques are especially useful where gum tissues have receded above the natural gum line, leaving more of the underlying tooth below the enamel exposed to disease. These procedures have become more effective in recent years with the development of specialized technologies called "barrier membranes" and biologic growth factors. These materials have allowed bone grafts to be more successful as this technology is engineered for targeted tissue growth and repair, and then dissolve at an appropriate point in the regeneration process.
Periodontal surgery isn't appropriate for every situation. Still, these procedures do play an important role for many patients to put a halt to the damage caused by gum disease.
If you would like more information on surgical procedures for gum disease, please contact us or schedule an appointment for a consultation. You can also learn more about this topic by reading the Dear Doctor magazine article "Periodontal Surgery: Where Art Meets Science."